FREQUENTLY ASKED QUESTIONS
All you need to know about Ecoffee Cup
---
Why should I choose to re-use?
Each year over 300 billion single-use coffee cups are manufactured globally. Due to their plastic content, less than 2% will ever be recycled. As takeaway drink consumption grows, so does the problem of waste.
Each time you choose to re-use, even just once a week, you will be helping in the fight against single-use waste. Imagine the massive difference we could make if everyone did the same. If 2 million people chose to re-use just once a week, we would stop 104,000,000 single-use cups going to landfill each year.
Follow us @ecoffee_cup_south_africa and share your #choosetoreuse journey.
---
Can I re-use Ecoffee Cup in my local coffee shop?
Incentives for bringing your own cup are becoming more and more common. So check in with your local café if they support the cause!
---
What is Ecoffee Cup made from?
Our current Ecoffee Cup is made from a composite of natural fibre, corn starch and a plant-based resin. It also contains a small amount of melamine as a production aid. This has been independently verified by Intertek UK. The natural fibre used in Ecoffee Cup is an upcycled byproduct previously burned by farmers. These materials are plentiful and do not require forest, food or compost-compromise farming.
Lids & Sleeves
Our lids and sleeves are made from pure, food grade silicone, using oxygen and silica (sand) as their base material. They are suitable for high temperature usage up to +120°C NOT MADE WITH NATURAL LATEX RUBBER.
Please email sales@tipto.co.za for further information.
---
What are the recommended temperatures for daily usage?
---
Is Ecoffee Cup microwave safe?
From July 2019, Ecoffee Cup sold in black boxes (see photo) can be used in microwave.
Microwave should be used for reheat only at a maximum 800W for no longer than 40 second intervals. DO NOT EXCEED THESE GUIDELINES.
Remove lid but attach silicone sleeve prior to microwave use. Caution: Cup will be hot upon removal from microwave.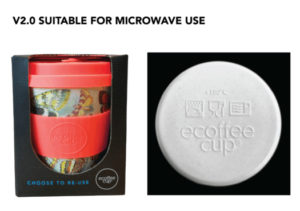 Original Ecoffee Cup sold in kraft boxes and some limited edition collections, are not suitable for microwave usage.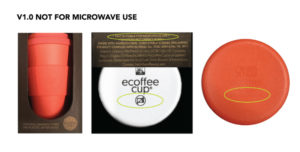 If you are uncertain, please check bottom of the cup for usage instructions.
---
How does Ecoffee Cup test its products to ensure that they are safe?
Our products are tested regularly in Europe by independent test houses, Intertek and TUV Rheinland, to comply with EU (LFGB) Food Contact regulations (EC) No. 1935/2004 and (EC) No.10/ 2011. We also test over-and-above the regulations to ensure Ecoffee Cup is suitable for regular usage at +100˚C. Ecoffee Cup also complies with US FDA and Japan Food Contact regulations. We are happy to share these results with our customers upon request.
---
Why have you changed the formulation in your most recent Ecoffee Cup?
We constantly look to improve Ecoffee Cup. Our latest version can be used in the microwave* and is significantly stronger, which makes it more durable for longer everyday use.
*Subject to usage guidelines.
---
Is Ecoffee Cup "environmentally friendly"?
Yes. Although we choose not to use this term in any of our communication because it is open to significant interpretation. Our mission is to provide beautiful, practical and affordable products that make a significant contribution towards the reduction of single-use items. Since we started in 2014, our customers have prevented more than 10 million single-use cups from entering the waste stream and subsequent landfill.
If that's not "environmentally friendly", we don't know what is?
---
Is Ecoffee Cup biodegrable?
EU law requires products to biodegrade 90% within 6 months to be considered as "biodegradable". For consumer durable products such as Ecoffee Cup, this is simply not achievable. Despite what some of our less-than-transparent competitors may claim, without exception, there is no re-usable cup on the market that currently meets this standard. However, Ecoffee Cup is degradable over a period longer than 6 months – and since it is made from natural materials, it is not toxic to the planet when composted. Given the correct atmospheric conditions, the cup should biodegrade over 24 – 36 months.
---
How do I dispose of Ecoffee Cup when I am finished with it?
OPTION 1
Step 1 • Crush
No matter how you choose to dispose of your cup, the first and most important step is to crush the entire Cup into small (2-3cm) pieces. We suggest you place inside an old pillow case or cotton bag and the jump on it over and over until it has broken down (be careful as sometimes these pieces can be sharp.)
Step 2 • Dispose
OPTION 1. Bury with organic waste

If you have an active household compost heap, soak the broken pieces in boiling water for 15-20 minutes and then bury deep with other organic matter while still hot. (Please be careful while doing this!) The cup will decompose over 24 – 36 months, depending on environmental conditions, and leaves 3-5% residual material.
OPTION 2. Mix with conventional waste
After much research, we've realised that possibly the best way for most people to dispose of their crushed cup is with conventional waste. Whilst that may sound counter-intuitive, if it is does end up in landfill, it will degrade over time in a warm, moist environment. We hope you agree that 3-5% residual material is better than 100% of plastic that will never biodegrade.
OPTION 3. You are more than welcome to use it as pen holder or plant.
---
Cup
Unlike many PP or PET-based products, our Cup should never emit odours or retain taste. We suggest you wash the Cup thoroughly before use and avoid leaving remains of drinks inside for prolonged periods.
Lid
Our lids are made from silicone which is chemically inert substance which means that, unlike some petrochemical plastics, (PET, PP) it should never emit odour. However, it can absorb some odours. Therefore, we always recommend washing lids and sleeves in the dishwasher (top shelf, removed from Cup). Also ensure that you avoid storing or washing with metal or conventional polypropylene plastic items such as storage containers or other plastic cups.
Quick Tips to remove odours
Top shelf dishwasher is always best; avoid washing or storing with conventional plastic or metal items
Mix a paste of baking soda and spread over the inside and around the rim of the lid; leave overnight and then wash clean.
Store near a small dish of vanilla, lemon or other pleasant-smelling material until the unpleasant odour has disappeared.
Avoid heavily fragranced dishwashing tablets or liquids. We recommend Ecover, Splosh or other fragrance-free options)
---
How do I remove stains from my Ecoffee Cup?
With frequent use Ecoffee Cup may discolour inside. Although this will not affect the taste profile of the Cup, some people do not like the appearance. Mix a paste of baking soda and spread over the inside and around the rim of the lid; leave overnight and then wash clean. Repeat if needed.
---
Why do you use individual packaging?
We keep our packaging to a minimum, however, it is vital to ensuring your Ecoffee Cup arrives unscathed. Without packaging comes breakages, and with breakages comes waste. We avoid single-use plastics, shrink wrapping, over-size boxes and unnecessary padding – and, wherever possible, re-use bubble-wrap and boxes to avoid them going to waste. We have also introduced paper boxes with eco tape and wood-shavings as protection on all orders shipped across South Africa.
---
How do I operate the lid?

---
Does Ecoffee Cup keep my drink hot?
Ecoffee Cup is not designed as a thermos, more as a replacement for single-use to-go cups. With that in mind, with its lid closed, it will keep your drink warm for up to 40 minutes. More than enough time for your walk to work or school run.
---
We helped pioneer the use of natural fibre composite material in reusable cups in the UK and Europe. Since 2014 we have developed a forensic understanding of our material composition, provenance, production process and required global safety testing.
Since then, a number of imitation products have entered the market, with varying levels of quality and legitimacy. While some of these come from reputable production facilities, many do not. Poor quality, false and misleading claims and a lack of transparency relating to compliance with global food contact regulations, has drawn an unprecedented amount of scrutiny upon our products.
While we choose not speak for the entire industry, we do speak for ourselves. What we can say about the vast majority of products that may look vaguely like ours, whether they are made from wheat, rice husk, bamboo or other "natural" materials:
They can contain up to 60% melamine, even some that claim to be melamine-free. We have tested many competitor products. There is nothing here that we don't know.
They make misleading statements about biodegradability. For the record, there is not one reusable Cup that is biodegradable to European standards.
They overplay the "eco-friendliness" of their products without knowing what they actually made from.
Since late-2018, as an industry-setting standard, we removed 90% of melamine from our product (from 25% to less than 3%) This has been independently verified in Europe by Intertek UK. These tests are available upon request.
How to determine if you have an authentic Ecoffee Cup
Lid
Ecoffee Cup has a matte lid with stopper. embossed with the words No Excuse For Single-Use or Choose To Re-use. It should be comparatively stiff, not soft and floppy
Base
Ecoffee Cup has a pressed base or printed back stamp
Sleeve
Heavy weight, with embossed Ecoffee Cup logo in roundel
If you believe you have paid for an Ecoffee Cup but bought a fake, please email us on sales@tipto.co.za with details.
Each year over 300 billion single-use cups are made.
Less than 2% will ever be recycled.
That's why in 2014 we created Ecoffee Cup. Light, bright and beautiful to drink from, with no plastic after-taste, Ecoffee Cup is available in over 100 different designs across five sizes, making it easier than ever to #choosetoreuse – every single day.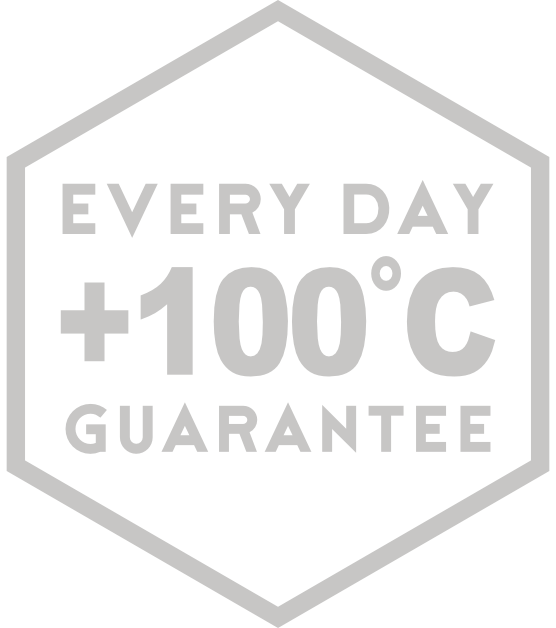 AS SEEN IN